Virginia Association of Railway Patrons
Modern Transportation for the Virginias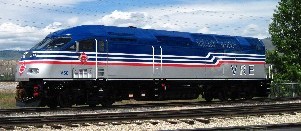 A Virginia Railway Express MP-36 diesel locomotive
Photo by Michael Testerman
---
VARP at Ashland Train Day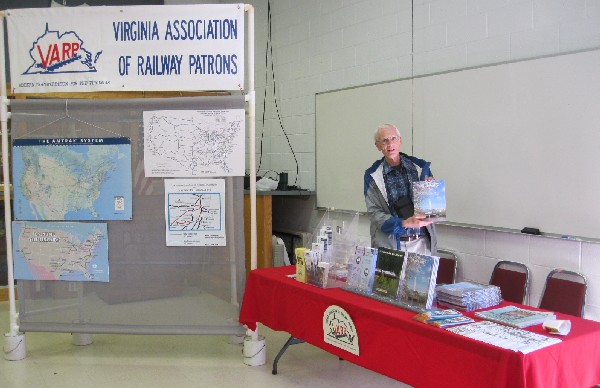 VARP hosted a display at Ashland, Va., Train Day on November 2, 2013. Curiously, the program listed the railroad patrons as providing all-day entertainment in the station. Instead, VARP provided all-day entertainment in the rescue squad building. VARP secretary and director Dick Peacock holds an Amtrak national timetable.
---
Online Petition Requests Reverse-Peak and Weekend VRE Service
Maxime Devilliers, a student at Mary Washington University in Fredericksburg, has organized an online petition to Paul Smedberg, VRE Operations Board Chairman, calling for counter–rush hour and weekend service on the Virginia Railway Express Fredericksburg line. As of early November, the petition had almost 400 signatures. VARP encourages its members and everyone else to sign the petition.
---
VRE Says Terror Threats Have Increased
Citing "increases in terror threats," Virginia Railway Express Manager of System Safety and Security Greg Deibler on August 15 defended the presence of up to eight Transportation Security Officers at VRE stations. He said that the event in Savannah when TSA officers herded all the arriving Amtrak passengers—even children—into a station for searches and pat-downs was an "isolated event." But a new Government Accountability Office reports cites 9,600 cases of misconduct by TSA personnel in three years. (Read the full article.)
---

Cardinal campaign
The Virginia Association of Railway Patrons wants Congress to direct Amtrak to run the Cardinal train daily and wants Congress to make sure that Amtrak has the operating funds, locomotives, and passenger cars to do so. Learn how you can help make this happen. See our Cardinal campaign page.
---
About our organization
Welcome to VARP's station on the World Wide Web.
The Virginia Association of Railway Patrons is a nonprofit, tax-exempt membership organization working to promote expanded rail service in Virginia and West Virginia. Donations are tax-deductible.
VARP's mission and membership information
A Future for Rail Passenger Service in the Virginias
VARP membership application form