Virginia Association of Railway Patrons
Modern Transportation for the Virginias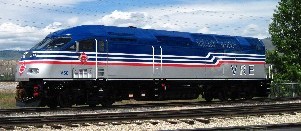 A Virginia Railway Express MP-36 diesel locomotive
Photo by Michael Testerman
---
Protect Virginia Amtrak trains
Help defeat Va. House Bill 2275
Virginia House Bill 2275 would allow the Intercity Passenger Rail Operating and Capital Fund, which pays for regional Amtrak trains in Virginia, to pay for Virginia Railway Express commuter rail operations too, reducing the money available to pay for Amtrak intercity operations in the state. VARP opposes this bill. VARP advocates intercity rail, commuter rail, and transit services. This bill is flawed because it takes money from intercity Amtrak service and gives it to VRE. Both intercity and commuter rail service need sufficient funding to perform well and grow.
The Virginians for High Speed Rail website has a web page explaining why it too opposes the bill and that will assist you in sending a message to your legislators.
---
Upcoming Events
2015 Annual Meeting in Alexandria
VARP will hold its annual meeting at the Burke Branch of the Alexandria, Va., Library on Saturday, March 7.
---
About our organization
Welcome to VARP's station on the World Wide Web.
The Virginia Association of Railway Patrons is a nonprofit, tax-exempt membership organization working to promote expanded rail service in Virginia and West Virginia. Donations are tax-deductible.
VARP's mission and membership information
A Future for Rail Passenger Service in the Virginias
VARP membership application form