Virginia Association of Railway Patrons
Modern Transportation for the Virginias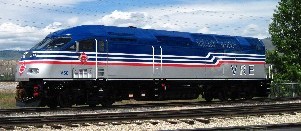 A Virginia Railway Express MP-36 diesel locomotive
Photo by Michael Testerman
---
Help Bedford get passenger train service

The town of Bedford, Virginia, between Lynchburg and Roanoke, wants the Roanoke train (planned for 2017) to stop there. VARP president Mike Testerman is assisting the town with its efforts. More than 8,000 citizens have signed a petition asking for the train to stop there. You can learn more and sign the online petition at www.thebedfordstation.com.
---
Upcoming Events
Manassas Railway Festival June 4
VARP plans to have a display at the Manassas Railway Festival on Saturday, June 4
---
Cardinal and Crescent get Business Class
Amtrak's New York–Chicago Cardinal and New York–New Orleans Crescent now have Business Class seats.
---
About our organization
Welcome to VARP's station on the World Wide Web.
The Virginia Association of Railway Patrons is a nonprofit, tax-exempt membership organization working to promote expanded rail service in Virginia and West Virginia. Donations are tax-deductible.
VARP's mission and membership information
A Future for Rail Passenger Service in the Virginias
VARP membership application form