Virginia Association of Railway Patrons
Modern Transportation for the Virginias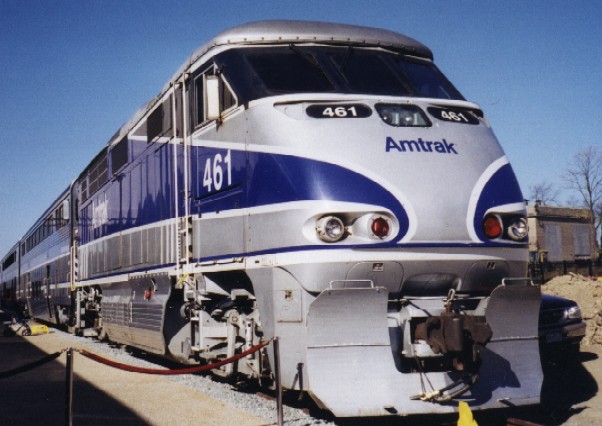 An Amtrak F-59 and bilevel cars on display at Broad Street Station (now the Science Museum of Virginia) in Richmond
Photo by Steve Dunham
---
Amtrak set ridership record in fiscal year 2012
Passengers took 31.2 million one-way trips in the 12 months ending September 30, marking the highest annual ridership total since Amtrak started operations in 1971 and the 9th ridership record during the past 10 years. Ridership grew 3.5% to a new record of 31,240,565 one-way trips, and ticket revenue jumped 6.8% to a best-ever $2.02 billion. Amtrak system-wide on-time performance increased to 83%, up from 78.1%. More details are available in an Amtrak press release from October 10. Ridership in Virginia was up up 8.3% from the previous fiscal year; these stats are in an Amtrak fact sheet.
---

Cardinal campaign
The Virginia Association of Railway Patrons wants Congress to direct Amtrak to run the Cardinal train daily and wants Congress to make sure that Amtrak has the operating funds, locomotives, and passenger cars to do so. Learn how you can help make this happen. See our Cardinal campaign page.
---
About our organization
Welcome to VARP's station on the World Wide Web.
The Virginia Association of Railway Patrons is a nonprofit, tax-exempt membership organization working to promote expanded rail service in Virginia and West Virginia. Donations are tax-deductible.
VARP's mission and membership information
A Future for Rail Passenger Service in the Virginias
VARP membership application form