Virginia Association of Railway Patrons
Modern Transportation for the Virginias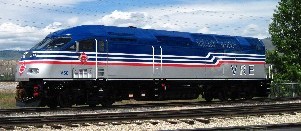 A Virginia Railway Express MP-36 diesel locomotive
Photo by Michael Testerman
---
Upcoming Events
2016 annual meeting in Williamsburg
VARP will hold its annual meeting in Williamsburg, Va., on Saturday, March 5., 11:00–3:30, at the Williamsburg Community Building, 401 N. Boundary St., two blocks from the train station. The meeting is free and open to the public. Lunch can be purchased in advance (we will post details soon).
Our program theme this year is rail's role in tourism and economic development.
Planned presentations:
The Mayor of Williamsburg's office
Erik Hansen of USTravel.org
Karen Riordan of the Greater Williamsburg Chamber and Tourism Alliance
The Bedford-Franklin County station initiative
New River Valley Rail 2020
---
Cardinal gets Business Class
Amtrak's New York–Chicago Cardinal, which serves Virginia and West Virginia, will have Business Class seats beginning Jan. 19, 2016, eastbound and Jan. 20 westbound.
---
Amtrak Trans-Hudson Gateway Tunnels Funded
Funding has been arranged for the Gateway tunnels across the Hudson River between New Jersey and New York. This past summer, VARP asked the Virginia and West Virginia congressional delegations to fund the new tunnels.
---
Silver Meteor now stops in Fredericksburg
Amtrak's New York–Miami Silver Meteor now stops in Fredericksburg. Northbound train 98 is due at 5:26 am. Southbound train 97 is scheduled for 8:33 pm
---
Protecting Virginia Amtrak trains
Thank you for helping defeat Va. House Bill 2275
Virginia House Bill 2275 would have allowed the Intercity Passenger Rail Operating and Capital Fund, which pays for regional Amtrak trains in Virginia, to pay for Virginia Railway Express commuter rail operations too, reducing the money available to pay for Amtrak intercity operations in the state. VARP opposed this bill. This bill was flawed because it would have taken money from intercity Amtrak service and given it to Virginia Railway Express. Both intercity and commuter rail service need sufficient funding to perform well and grow.
The Virginians for High Speed Rail coordinated a campaign opposing the bill and received a huge response.
---
About our organization
Welcome to VARP's station on the World Wide Web.
The Virginia Association of Railway Patrons is a nonprofit, tax-exempt membership organization working to promote expanded rail service in Virginia and West Virginia. Donations are tax-deductible.
VARP's mission and membership information
A Future for Rail Passenger Service in the Virginias
VARP membership application form