Virginia Association of Railway Patrons
Modern Transportation for the Virginias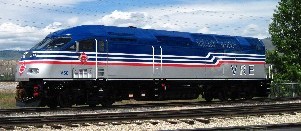 A Virginia Railway Express MP-36 diesel locomotive
Photo by Michael Testerman
---
Upcoming Events
Manassas Railway Festival
VARP will have a display at the Manassas Railway Festival on Saturday, June 6.
---
VARP founder dies
John Czyzewski, VARP's founder, died March 31, age 70. Beginning in about 1979, John organized an ad hoc group of Virginia and West Virginia NARP members into what would become the Virginia Association of Railway Patrons. John wrote the by-laws and filed the articles of incorporation with the Virginia State Corporation Commission around 1980. For the next two decades he served as chairman of the board.
---
Protecting Virginia Amtrak trains
Thank you for helping defeat Va. House Bill 2275
Virginia House Bill 2275 would have allowed the Intercity Passenger Rail Operating and Capital Fund, which pays for regional Amtrak trains in Virginia, to pay for Virginia Railway Express commuter rail operations too, reducing the money available to pay for Amtrak intercity operations in the state. VARP opposed this bill. This bill was flawed because it would have taken money from intercity Amtrak service and given it to Virginia Railway Express. Both intercity and commuter rail service need sufficient funding to perform well and grow.
The Virginians for High Speed Rail coordinated a campaign opposing the bill and received a huge response.
---
About our organization
Welcome to VARP's station on the World Wide Web.
The Virginia Association of Railway Patrons is a nonprofit, tax-exempt membership organization working to promote expanded rail service in Virginia and West Virginia. Donations are tax-deductible.
VARP's mission and membership information
A Future for Rail Passenger Service in the Virginias
VARP membership application form