Virginia Association of Railway Patrons
Modern Transportation for the Virginias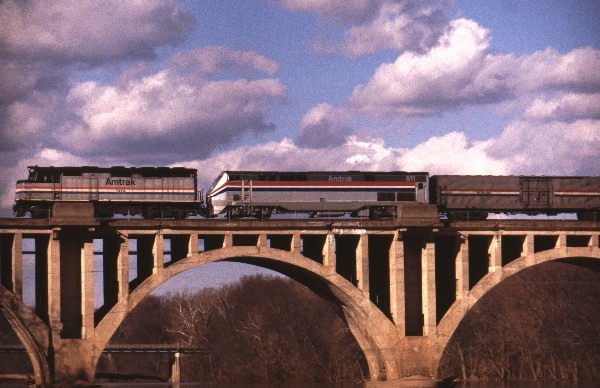 Amtrak crossing the Rappahannock River bridge from Stafford into Fredericksburg, Virginia, circa 1995. Copyright Steve Dunham.
---
Dick Peacock, rest in peace
With sadness, we mark the passing of VARP Secretary Richard Peacock on Friday, May 6, 2016.
Dick could have written the book on being the consummate passenger rail advocate. He joined VARP to help get the Virginia Railway Express established and was our secretary ever since. He regularly rode VRE from his home in Manassas to his job at the Environmental Protection Agency Arlington, VA. Once he retired, Dick ramped up his rail advocacy to promote Amtrak service in Virginia and West Virginia. Thanks to Dick, VARP has been a regular exhibitor at the Historic Manassas Railroad Festival every year since its inception. Dick was especially good at getting letters to the editor published, and he followed up by maintaining a running dialogue with public officials. His most recent success story is the construction of a safety fence at the Burke VRE–Amtrak station to prevent trespassers from taking a short cut into harm's way. Together with his younger brother, Dan, Dick encouraged implementation of the connector bus to the Lynchburg Regional train and for that train to be extended to the Roanoke and New River Valleys.
In his retirement Dick also was notable for maintaining hiking trails in the Shenandoah National Park, for which he received honors. Dick also managed to visit most of the National Parks, combined with scenic train travel.
In March, Dick received a clean bill of health from his battle with brain cancer, only to contract pneumonia in April, which cascaded into other complications.
Michael Testerman
VARP President
---
Help Bedford get passenger train service
The town of Bedford, Virginia, between Lynchburg and Roanoke, wants the Roanoke train (planned for 2017) to stop there. VARP president Mike Testerman is assisting the town with its efforts. More than 8,000 citizens have signed a petition asking for the train to stop there. You can learn more and sign the online petition at www.thebedfordstation.com.
---
Cardinal and Crescent get Business Class
Amtrak's New York–Chicago Cardinal and New York–New Orleans Crescent now have Business Class seats.
---
About our organization
Welcome to VARP's station on the World Wide Web.
The Virginia Association of Railway Patrons is a nonprofit, tax-exempt membership organization working to promote expanded rail service in Virginia and West Virginia. Donations are tax-deductible.
VARP's mission and membership information
A Future for Rail Passenger Service in the Virginias
VARP membership application form