Virginia Association of Railway Patrons
Modern Transportation for the Virginias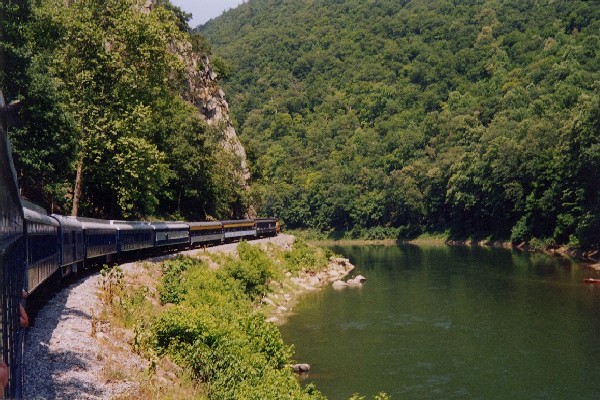 The South Branch Valley Potomac Eagle alongside the south branch of the Potomac River in West Virginia, 2003. Copyright Steve Dunham.
Rest in peace, Allan Carpenter
Former VARP board member and assistant treasurer Allan Carpenter died on Sep. 7, 2020. "Passenger rail advocacy has lost a champion in the knowledgeable and likeable gentleman Allan Carpenter," said VARP Executive Vice President Jim Churchill. "We are sorry to hear of this loss of a great man." Allan served on VARP's board of directors and as assistant treasurer for more than ten years.
Report on cross-state Virginia rail service
Virginians for High Speed Rail, the Southern Environmental Law Center, the Hampton Roads Chamber, Virginia21, and the Roanoke Regional Chamber have jointly released a report, "Expanding Virginia's Passenger Rail: Connecting the Blue Ridge to the Beach with the Commonwealth Corridor," that calls for cross-state rail passenger service connecting Roanoke, Charlottesville, Richmond, and the Hampton Roads area. The service would provide new mobility options for millions of Virginians.
---
FRA gives Virginia green signal for DC2RVA
The Federal Railroad Administration Record of Decision for portion of the Southeast Higher Speed Rail Project between Washington, DC, and Richmond, called DC2RVA, completes the Environmental Impact Statement process and make the project eligible to receive additional federal funding to advance project planning.
---
Long Bridge study complete
The study of capacity expansion for the Long Bridge between Washington, DC, and Arlington, VA, is complete and recommends a new bridge alongside the existing one to double capacity. All mainline trains between Washington and the South—CSX freights, Amtrak, and Virginia Railway Express—use this bridge.
---
MARC West Virginia service in danger
Negotiations are under way to preserve MARC service beyond Maryland to Martinsburg, WV. Rail Passengers Maryland are working to alert passengers. Please see that organization's website.
---
Help Bedford get passenger train service
The town of Bedford, Virginia, between Lynchburg and Roanoke, wants the Roanoke train (which began running Oct. 31, 2017) to stop there. VARP president Mike Testerman is assisting the town with its efforts. More than 8,000 citizens have signed a petition asking for the train to stop there. You can learn more and sign the online petition at www.thebedfordstation.com.
---
About our organization
Welcome to VARP's station on the World Wide Web.
The Virginia Association of Railway Patrons is a nonprofit, tax-exempt membership organization working to promote expanded rail service in Virginia and West Virginia. Donations are tax-deductible.
VARP's mission and membership information
A Future for Rail Passenger Service in the Virginias
VARP membership application form